​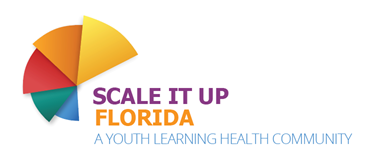 Scale It Up - Florida
If you are interested in learning more about our ongoing initiatives and future plans, please visit the
Scale It Up Florida Youth Learning Health Community Website
---
Advancements in research and health care for adolescents and young adults are the result of youth-focused research initiatives. Scale It Up (SIU) Florida is a youth-focused, community-based research network consortium focused on HIV and other sexual health issues in adolescents and emerging adults (age 13-29) in Florida. SIU Florida addresses the translation of behavioral interventions for the prevention and treatment of HIV in adolescents and emerging adults.
SIU Florida aims to:
Conduct innovative, state-of-the-art implementation science to end the youth HIV epidemic in Florida.

Promote bi-directional community-engagement to address sexual health issues among vulnerable youth populations with outreach, research, education, and advocacy

Establish state-wide partnerships & collaboration opportunities with youth stakeholders, community-based organizations, and county health departments in Florida
Efforts to date include an array of stakeholder engagement initiatives to expand the SIU Florida community and increase reach of youth populations throughout the state. In collaboration with Florida Department of Health (FDOH) and FDOH County Health Departments (CHDs), the SIU Florida seeks to conduct state-of-the-art implementation science to end the youth HIV epidemic in Florida.
Engagement & Support from FDOH central office/Surgeon General office

Outreach to HIV coordinators at Ending the HIV Epidemic CHDs

Broward, Miami-Dade, Duval, Hillsborough, Orange, Palm Beach, Pinellas,

Establishment of a Youth Advisory Council throughout Florida

Collaboration with FDOH for Ending the HIV Epidemic requests for applications

Adolescent Trials Network for HIV/AIDS Interventions: Scale It Up
---
Youth Advisory Council
The leadership of SIU Florida views the Youth Advisory Council  (YAC) as an important element of forging cohesive collaboration and engagement across research communities concerned with HIV prevention and treatment among youth. YAC members work with Scale It Up leadership to determine how best to inform the communities about the planned research, engaging in discussions with local staff and community representatives in advance of implementation and disseminate SIU Florida findings to their perspective communities.
Our community-engaged research mission is to promote health equity among underserved youth populations such as ethnic minority and sexual gender minority youth.
If you are an LGBTQ/sexual gender minority individual and between 13-29, you might be eligible to participate in a study by SIU Florida. Participating is a great way to give back to underserved youth populations, and it may help you lean new information about how to improve your health.
If becoming a part of SIU-Florida sounds like a good fit for you, then please consider filling out our SIU-Florida participant registry form!
It takes less than 5 minutes to fill out. We will contact you if you are eligible for any of our current studies. We will keep your information confidential.
Join the SIU-Florida community and play an important role in improving the health of adolescents and young adults in Florida through community-driven research, discovery and innovation. Please click the link below to get started.
title-inside title-centered
2