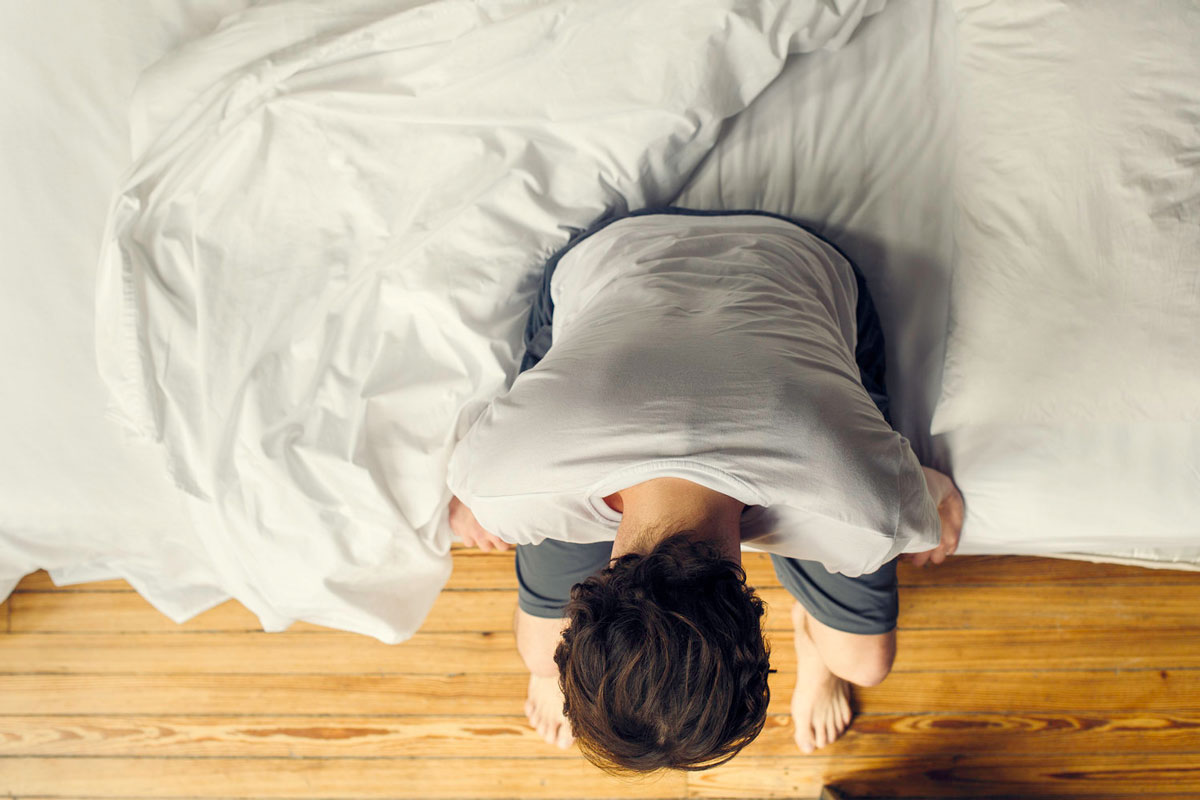 The STEP (Sleep, Trauma, and Emotional Processes) program, led by Dr. Scott M. Pickett, examines the influence and interaction of vulnerabilities, such as maladaptive emotion regulation and sleep disruption, on negative mental and physical health outcomes. Primary vulnerabilities of interest are those associated with psychological trauma. Current projects utilize a variety of research designs from basic social and biomedical science to clinical trials.
For more information about the STEP Program, please contact Dr. Scott Pickett at Scott.Pickett@med.fsu.edu or the Step Lab directly at step.lab@med.fsu.edu 
Current Projects
The Development of a Sleep Laboratory to Increase Collaboration and Research Funding through the Acquisition of Sleep Assessment Equipment
Following an interdisciplinary approach to research, faculty at the CTBS are currently collaborating with researchers across FSU's campus; however, the use of sleep-related equipment is limited in current designs/proposals. Beyond research enhancement, a primary benefit of the development of a sleep laboratory will be to improve research and clinical training of undergraduate and graduate students, and postdoctoral scholars in a variety of methods of data collection and to develop hands-on skills for collecting, scoring, and analyzing sleep-related data. The lab will also facilitate research with direct applications to communities (and underserved populations) and health care providers, improving the research infrastructure and environment at the CTBS (and FSU more broadly).
To date, Dr. Pickett has committed a large portion of his existing startup package in furniture, equipment, and supplies to develop the two sleep laboratory spaces and one observation area to provide a real-life simulated bedroom environment, conducive to participant comfort which provides added reliability of sleep observation metrics.
Development of the sleep observation facilities is funded in part by the Florida State University Council on Research and Creativity's Equipment and Infrastructure Enhancement Grant (EIEG) with additional cost sharing commitment provided by:
The FSU College of Medicine's Department of Research and Graduate Programs

The FSU College of Medicine's Behavioral Sciences and Social Medicine (BSSM) Department

The FSU College of Nursing

The FSU College of Biological Science

The FSU College of Arts and Sciences
All-Inclusive Hurricane Resilience Divide for Special Needs Populations Living in Rural Communities
A gap between urban and rural hurricane resilience became more apparent after Hurricane Michael hit the Florida Panhandle. Response and recovery processes that had worked for large Florida cities like Miami were not effective in the rural areas most impacted by Michael. Likewise, within rural communities, significant differential vulnerabilities exist between the general population from those groups with special, unique and complex needs: low-income, homeless, elderly, minorities, and those that have serious physical or mental illnesses or disabilities. In the rural Panhandle, there are barriers to recovery categorized by the lack of governmental capacity to manage across functions, coordinate with nongovernmental service providers, and provide adequate resources for the needs of a diverse community. In order to address these "resilience divides," there is a need to better understand the factors that foster and support the efficacy of all-inclusive and equitable hurricane resilience for varying vulnerable population segments, and probe the underlying causes of disaster vulnerability in rural communities. This can be achieved by implementing living laboratories in real-life rural communities and settings, grounded in scientific exploration of the complex and nonlinear interactions among systems and through of the co-production of solutions with community leaders, residents, government, industry, and researchers.
This study is being conducted by a multidisciplinary team of investigators, funded by the Florida State University's Translational Health Research Seed Grant Program:
PI: Dr. Eren Erman Ozguven (Engineering) Jessica DeLeon (COM), Mark Horner (Geography); Les Beitsch (COM); Richard Feiock (Public Policy); Chris Uejio (Geography); Scott Pickett (COM); Tisha Holmes (Urban & Regional Planning); Ellen Piekalkiewicz (Social Work); Marcia Mardis (CCI); John Mathias (Social Work)
Demonstrating the Feasibility and Effectiveness of The Skills fOr Life Adjustment and Resilience (SOLAR) Program in an Underserved, Low-Resource Hurricane Affected Region of the Florida Panhandle
Hurricane Michael struck the Florida Panhandle region in October 2018 and led to over 100 deaths and at least $25 billion in damage. The extent of the emotional toll on the people of the Florida Panhandle region is still being discovered. Mental health disturbances following natural disasters are well documented, including anxiety, depression, substance use disorders, and stress disorders such as posttraumatic stress. Individuals affected by disasters may also experience impairments in functioning, such as impairments in social and occupational. Particularly, the proposed targeted communities in the Florida panhandle region are underserved, low-resource, and extremely rural, and lack many resources common to more urban and populated areas.
The SOLAR program was developed by 21 international trauma experts and has preliminary evidence to suggest it is an effective intervention following a natural disaster, including pilot data from a study done following severe brush fires in Australia and following tropical cyclones in Tuvalu. Hurricanes are common to Florida, and many Florida public librarians are Tier 1, 2, or 3 first responders, contractually obligated to serve in a disaster response role. The proposed study offers to train librarians to deliver the SOLAR program as "coaches." Librarians will be given a structured and standardized strategy to address the needs of their communities in the event of a disaster. SOLAR provides an evidence-based, sustainable model of disaster response to address the mental health and well-being of affected communities.
This study is being conducted by Scott M. Pickett, PhD, through funding providing by the Florida State University Council on Research and Creativity's Planning Grant mechanism.
Project BioSleep
Habitual short sleep (average nightly sleep duration of <6 hours) is a factor that has been implicated in weight gain risk, in addition to metabolic, stress, and immune system alterations. Recent research suggests that disturbed sleep (short sleep duration and subjective complaints of poor sleep), is associated with the greatest dysregulation of these biological systems and with the addition of stress, has the highest risk for the development of obesity. Interestingly, emotional stress may be playing an important and understudied role in the association with and/or contribution to disrupted sleep and disturbed sleep following a significant trauma may present with the most severe neurobiological and neuroendocrine dysfunction. There may also be differential patterns of metabolic alterations between men and women, suggesting sex-specific mechanisms for weight gain risk. In this study, the identification of neuroendocrine and inflammatory targets will provide meaningful outcomes for the submission of a R01 funding mechanism to study sex-specific targets and analyze multiple mediators simultaneously. The results may help inform interventions targeting obesity, disordered eating, and sleep disruption.
This study is being conducted as a collaboration between Drs. Scott Pickett, James Olcese, and Gregg Stanwood, and is funded through the FSU College of Medicine's Biomedical Sciences department.
Finished Projects
Project MED
The purpose of this research project was to examine the consistency of predictors across a variety of health, emotion, and occupational variables in current or former emergency medical technicians (EMTs), paramedics, and Registered Nurses. Variables of interest included sleep disturbance, posttraumatic stress symptoms, moral injury, mindfulness, burnout, and social support. Findings from this study will be analyzed and used to inform treatments that may be used to reduce distress in this population.
Project MSTER
The purpose of this research project was to examine the impact of a natural disaster in adults 18 years or older who had been affected by the events of Hurricane Michael. Community experiences and needs, sleep disturbance, posttraumatic stress symptoms, and other psychosocial functioning measures were studied. Findings from this study will be analyzed and used to inform treatments that may be used to reduce distress in this population (see Project SOLAR).
Project PIRATE
The purpose of this research project was to assess law enforcement/police interaction experiences and fear response in primarily racial and ethnic minority individuals. Various psychological measures and response patterns were measured to identify relationships between key variables. The findings from this study may be used to inform policy and training for law enforcement in order to reduce fatalities resulting from police interactions.
Project CASS 3.0
The overall aim of the study was to determine if men respond differently to women when feeling stressed, particularly if they have experienced childhood trauma.  Our goal in this study was to compare aggressive responses in men who have received negative attitudes/feedback from a female confederate to those who have received positive attitudes/feedback from a gay male or straight male confederate. Because so little research has examined the relationships among childhood trauma, emotion regulation, sexual assault perpetration, aggression, and gender role stress, the overall study could have profound implications in explaining the overall correlation between experiencing abusive trauma and later perpetrating aggression.
Project STAER
The purpose of the study was to further explore the relationship between trauma exposure and posttraumatic stress (PTS) symptom severity, sleep, emotional processing, and dietary attitudes and behaviors. It was expected that participants with PTS symptoms will exhibit greater emotional processing difficulties on the two emotional processing tasks in comparison to the trauma exposed (non PTS) participants. Additionally, this study examined sleep disturbance as a potential mediator between PTSD and disrupted eating patterns.  These findings can help inform interventions for individuals struggling with disrupted eating and sleep following trauma exposure.
Project STARLIT
Habitual short sleep, defined as average nightly sleep duration of <6 hours, may contribute to problematic weight gain behaviors, such as increased caloric intake and decreased physical activity. Specifically, habitual short sleep has been linked to neuroendocrine functioning associated with decreased signals of satiety and increased signals of hunger. However, there may be differential patterns between men and women, suggesting sex-specific mechanisms for overeating. The study aimed to examine neuroendocrine differences associated with habitual short and normal sleep between men and women. These results could be utilized to inform treatments to improve sleep quality and prevent excessive weight gain.
Project TECH
The main goal of Project Tech was to compare a basic sleep hygiene protocol to an enhanced stimulus control protocol to improve subjective sleep quality and quantity by establishing the bed as a stimulus for sleep by reducing engaging in other activities while in bed (i.e. technology usage). It was hypothesized that both the control sleep hygiene group and the technology intervention group will have improvements in sleep hygiene, sleep incompatible behaviors, sleep quality, sleep quantity, and insomnia symptoms from baseline to post-intervention due to the sleep hygiene protocol with the technology intervention group showing greater improvements than the control sleep hygiene group. The findings from this study may be used to design general sleep hygiene programs that incorporate technology interventions to improve sleep quality, especially among college students.
title-inside title-centered
2